Port Sheldon Township owns and maintains three parks throughout the Township and leases two properties from Consumers Power for recreational use.
Kouw Park
Kouw Park– This 3.7 acre park is located along 200 feet of beachfront on Lake Michigan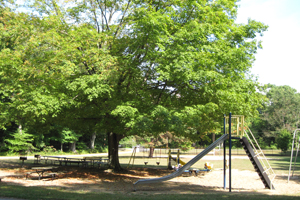 at the end of Van Buren Street.  The park features improved facilities including picnic areas, play equipment, restrooms and parking.  Kouw Park is owned and maintained by the Township.
Windsnest Park – Windsnest Park is located on 4 acres of land and provides large sandy beach front on Lake Michigan for the public to enjoy.  The main activities include swimming and picnicking.  
The park also provides play equipment, restrooms, and improved parking facilities.  Although the Township maintains Windsnest Park, the land is owned by Consumers Power and leased to the Township for $1.00 per year.
Sheldon Landing – Sheldon Landing is situated on approximately 6 to 7 acres of land located on Crab Drive, which is on the north side of the Pigeon River just east of Lake Shore Drive.  This area includes street right-of-way in which the road has been unused, along with a strip of woods between the river and the right-of-way.  The park has three land boat launches which enable sportsmen access to the Pigeon River.  The Township leases this land from Consumers Power for $1.00 per year as well as maintains the privacy fence separating the park from remaining Consumers Power property.
Township Recreational Park – The Township Recreational Park is located on 40 acres of land near the center of the Township.
  Also located on this parcel is the Township Hall and the Fire Station.  Indoor facilities include a gymnasium/multi-purpose room, a kitchen area and a public restroom, available on a rental basis.  Outdoor facilities include a softball diamond, tennis courts, basketball courts, pickle ball courts, picnic shelter and play equipment, shuffle board, seating areas and parking.  The park is owned and maintained by the Township.
Zwemer Park – Zwemer Park is comprised of 3.2 acres of wooded land located along the Stanton Road right-of-way between Lake Shore Drive and Lake Michigan.  This piece of land is generally used as parking for beach users and does not have improved facilities at this point in time.  The park is owned and controlled by the Township.